The Veeam Cookbook Series
A simple step by step no frills approach to achieving your goal
Recipe: Add a New Repository Linux
Expected deliverables:
A Veeam Backup & Replication Linux Repository where Veeam keeps backup files, VM copies and metadata for replicated VMs.
Time to complete: 5 minutes
Ingredients:
Server (Virtual or Physical) with minimum of 2 cores (vCPUs), plus 1 core (vCPU) for each additional concurrent task, 2 GB RAM plus 200 MB for each concurrent task, disk space 300 MB plus 50 MB for each concurrent task.
Supported Linux Operating system (check system requirements)
The storage can be a local disk, directly attached disk-based storage (such as a USB hard drive), NFS share or iSCSI/FC SAN.
A user account with root or elevated to root permission on your server.
Before you start:
The Veeam software is automatically uploaded and installed by the Veeam Backup and Replication server.
Assumptions:
You have a Veeam Backup and Replication server installed. You have added at least one Linux Server in the Backup infrastructure. If you have not added a server to the backup infrastructure, please refer to "Adding Linux Servers" recipe.
Method:
Open the Veeam Backup & Replication Console.
Select Backup Infrastructure on the bottom left menu.
Right click Backup Repositories and choose "Add Backup Repository".
Select "Direct attached storage" and "Microsoft Linux".
Give a name to the repository and click Next.
Select the Linux Repository Server and click Next.
Set the path to the folder or unit that will be used as repository, and use the Populate button to confirm the free space. Change the number of concurrent tasks or limit the data rate if necessary and click Advanced to check the available options. When finished, click OK on the Storage Compatibility Settings and Next on the main screen.
Confirm or change the mount server settings.
Review the settings and confirm by clicking Apply. If you're adding a repository with existing backups, flag the setting to import them automatically.
After installation and registration is completed, click Finish and the Linux repository is ready to use.
Method in Video: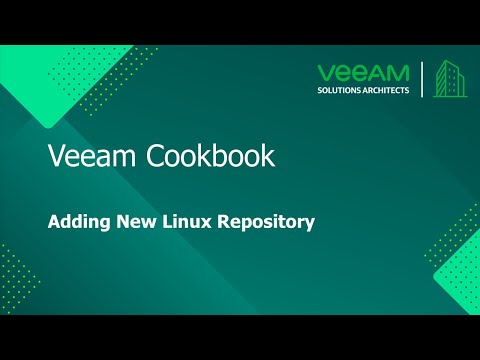 Links to Resources:
---