The Veeam Cookbook Series
A simple step by step no frills approach to achieving your goal
Recipe: Add a New WAN Accelerator
Expected deliverables:
A WAN Accelerator for Veeam backup & Replication that combines several technologies to optimize the data transfer and reduce the amount of data going over WAN.
Time to complete: 5 minutes
Ingredients:
A pair of Windows Servers as of WAN accelerators: one WAN accelerator on each side of the WAN link.
Windows Server 64 Bit (Virtual or Physical) with minimum of 2 cores (vCPUs) and at least 8 GB RAM.
For the source WAN Accelerator: digest disk space 2% of provisioned VM size for Low Bandwidth mode, 1% of provisioned VM size for High Bandwidth mode.
For the target WAN Accelerator: in addition to the digest disk space, 10 GB per every type of OS that will be processed.
Before you start:
You have a Veeam Backup and Replication server installed. You have added at least one Microsoft Windows Server in the Backup infrastructure. If you have not added a server to the backup infrastructure, please refer to "Adding Microsoft Windows Servers" recipe.
Assumptions:
This guide assumes that one or more Backup Proxies are added to Veeam Backup & Replication. A Repository to be used as Cache repository must be available. Network access and the required permission to connect to the SMB share to be protected need to be ready and on-hand.
Method:
Open the Veeam Backup & Replication Console.
Select Backup Infrastructure on the bottom left menu.
Right click WAN Accelerators and choose "Add WAN Accelerator".
Select the Windows Server, adjust the TCP/IP port and number of streams if needed, select whether to use the High bandwidth mode and click Next.
Define where service files and global cache data will be stored. Click Next.
Review the settings and confirm by clicking Apply.
After installation and configuration is completed, click Finish and the WAN Accelerator is ready to use.
Method in Video: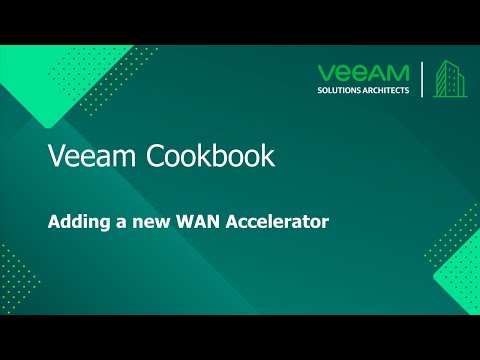 Links to Resources:
---