The Veeam Cookbook Series
A simple step by step no frills approach to achieving your goal
Recipe: Add a New Repository Object Storage S3 compatible
Expected deliverables:
A Veeam Backup & Replication S3 Repository where Veeam keeps backup files and VM copies.
Time to complete: 5 minutes
Ingredients:
Either a cloud or a local S3 compatible storage solution.
Before you start:
You can create the bucket beforehand, or create it during the procedure. For Azure Data Box follow the documentation to configure the name resolutions and install SSL Certificate.
Assumptions:
You have a Veeam Backup and Replication server installed.
Method:
Open the Veeam Backup & Replication Console.
Select Backup Infrastructure on the bottom left menu.
Right click Backup Repositories and choose "Add Backup Repository".
Select "Object Storage" and "S3 Compatible".
Give a name to the repository, change the number of concurrent tasks if needed and click Next.
Specify an Object Storage Account filling in the Service point, Region and Credentials fields.
Select a bucket from the drop-down list, and a folder to which you want to map your object storage repository. You can also define a disk soft limit not to be exceeded, and make the storage immutable. Click Apply.
After the configuration is completed, click Finish and the S3 repository is ready to use.
Method in Video: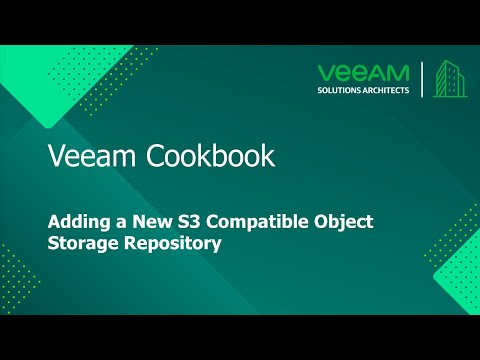 Links to Resources:
---